This Month's Movie Update:
UP
Disney Pixar's UP
TOP 73 in the WORLDWIDE BOX OFFICE
TOP 35 in the US BOX OFFICE
Top 172 in NON-USA BOX OFFICE
ANIMATED BLOCKBUSTER MOVIE OF THE YEAR
JR's FAVORITE ANIMATED MOVIE OF THE YEAR
Name of Film: UP
Year: 2009
Date of Theater Release: August 19, 2009
Genre: Animation/Action/Adventure/Comedy/Family
Director: Pete Docter, Bob Peterson
Writers: Bob Peterson, Pete Docter
Plot:
A young Carl Fredrickson meets a young adventure spirited girl named Ellie. They both dream of going to a Lost Land in South America. 70 years later, Ellie has died. Carl remembers the promise he made to her. Then, when he inadvertently hits a construction worker, he is forced to go to a retirement home. But before they can take him, he and his house fly away. However he has a stowaway aboard. An 8 year old boy named Russell, whose trying to get an assisting the elderly badge. Together, they embark in an adventure, where they encounter talking dogs, an evil villain and a rare bird named Kevin. (Source by:
Garfield2710
)
Award:
2009 Teen Choice Award - Choice Summer Movie: Comedy (won)
Major Cast:
Charles Muntz (Voiced by: Christopher Plumber)
Rusell (Voiced by: Jordan Nagai)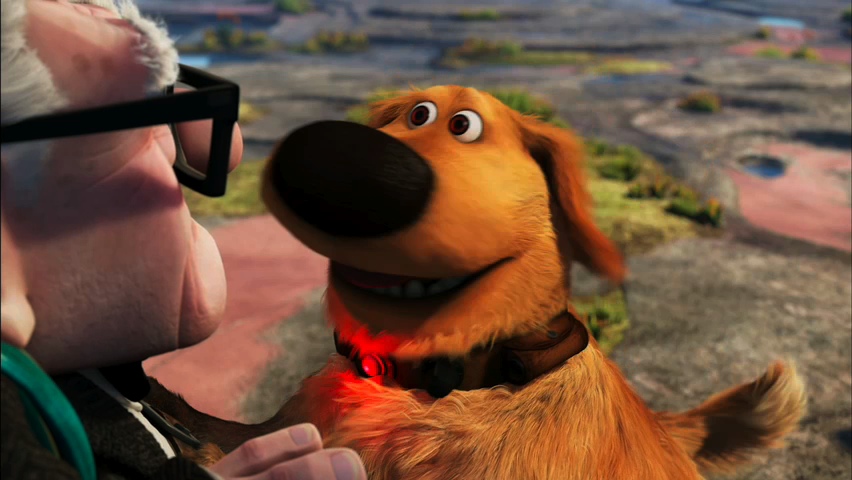 Dug (Voiced by: Bob Peterson)
Minor Characters:
Alpha (Voiced by: Bob Peterson)
Beta (Voiced by: Delroy Lindo)
Gamma (Voiced by: Jerome Ranft)
Construction Foreman Tom (Voiced by: John Ratzenberger)
Newsreel Announcer (Voiced by: David Kaye)
Additional Info:
*
Trivia: If Carl's house was approximately 1600 square feet, and the average house weighs between 60-100 pounds per square foot, it weighs 120,000 pounds. If the average helium balloon can carry .009 pounds (or 4.63 grams), it would take 12,658,392 balloons to lift his house off the ground. (20,622 balloons appear on the house when it first lifts off.)
*
Goofs: Incorrectly regarded as goofs: When the house first rises, breaking free of its foundation, the front porch is clearly empty. Yet Russell appears later in the far right corner. This is explained by Russell later when he says he crawled under the porch chasing a "snipe". Apparently he hung on to something underneath the porch and crawled up later
*
Memorable Quote: Quoted by Gamma, I may be small but I sure am not big.
SNEAK PEEK:
Current Movie Box-Office:
USA - $291,390,456
Non-USA - $181,300,000
Wordlwide - $472,690,456
Blog Viewers, Watch:
UP, Still viewing in selected nations worldwide...
Next Month's Movie Update: The Grudge 3
November's Movie Update: Saw VI
-jrspeciallatenightshow9 09/25/2009